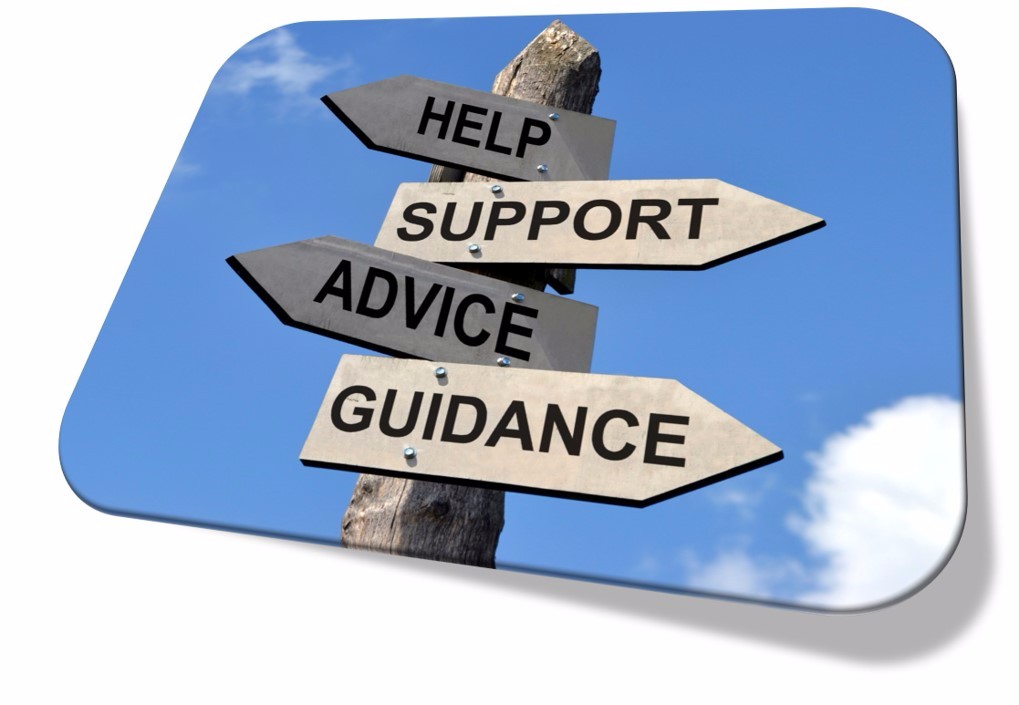 THIS MENTORING PLATFORM is for YOU if...

* You want to learn about and see how to leverage your Top 5 Strengths for Success
* You want to take it up a notch and shorten your learning curve in real estate deals
* You have what it takes to become Successful
* You want to 'turn up' your Financial Thermostat and take advantage of Opportunities
* You desire to have PERSONALIZED Online Face-to-Face Meetings
* You want to Review & Analyze Real Estate Deals that Interest YOU
* You own land, property, or neither.. but need a MENTOR to provide you with guidance, advice, support, and 'insider secrets' on varying levels of real estate transactions
AND, you will have Lifetime Access to the Course Curriculum (including any Updates to this Course).
Your Instructor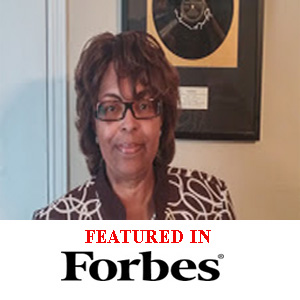 President / CEO - J&T Peterson Development [email protected] / Jacqueline's LinkedIn Profile
J&T Peterson Development is the sole creator/ owner and author of all courses within Online Real Estate Development Academy. Please feel free to call: (800) 832-0918.
Successful track record of over 10 years in raising, developing, and managing $30mm dollars for real estate developments within distressed and master planned communities. Completed development cycles from site selection/acquisition and due diligence, concepts and planning, through financing and construction with project management. Change Order History: Maximum 1.5% to the Lowest of 0%.
TYPES of DEVELOPMENTS: Mixed-Use, Multifamily, Retail, Commercial/Office, Land Development
Featured in Forbes Magazine, as of 1 of 10 Notable Negotiators in the United States.
Recently authored a FREE eBook- "Creating Wealth thru Commercial Real Estate Development". Commercial Real Estate Development is one of the best ways to create wealth. It can produce the type of lifestyle you desire and initiate generational wealth. Please click on or copy and paste in your browser the following link to receive your FREE eBook. "Creating Wealth thru Commercial Real Estate Development"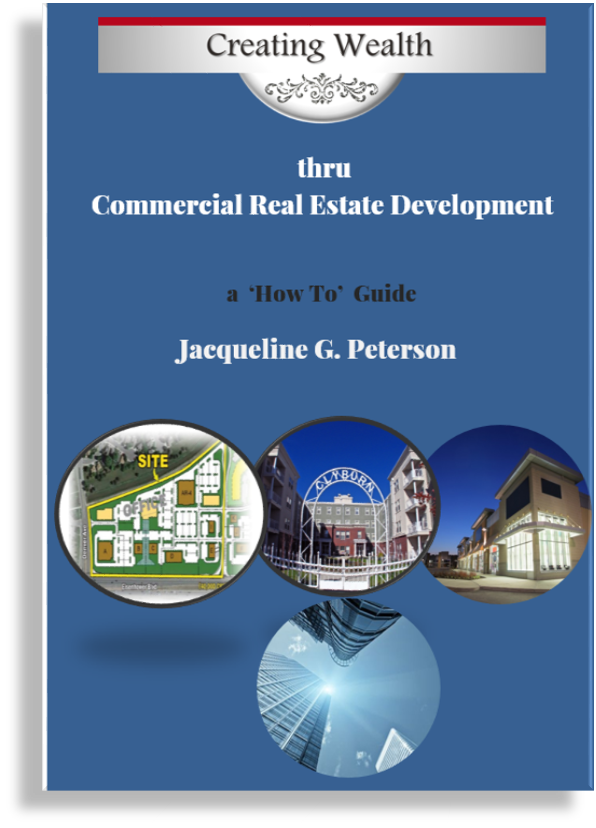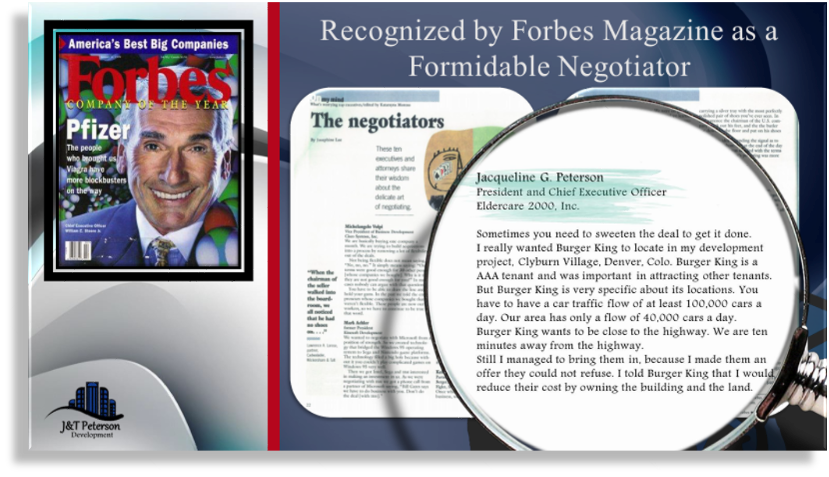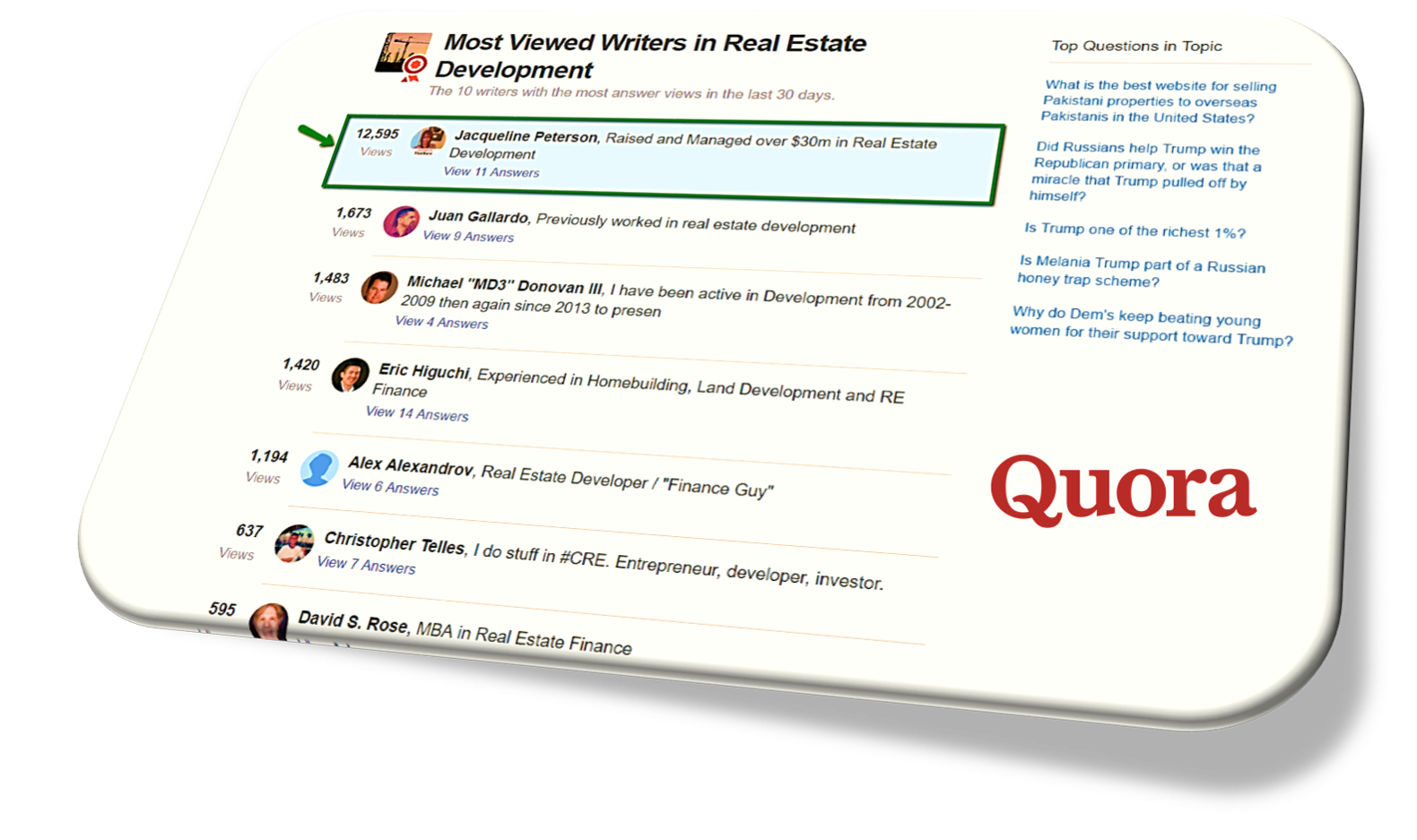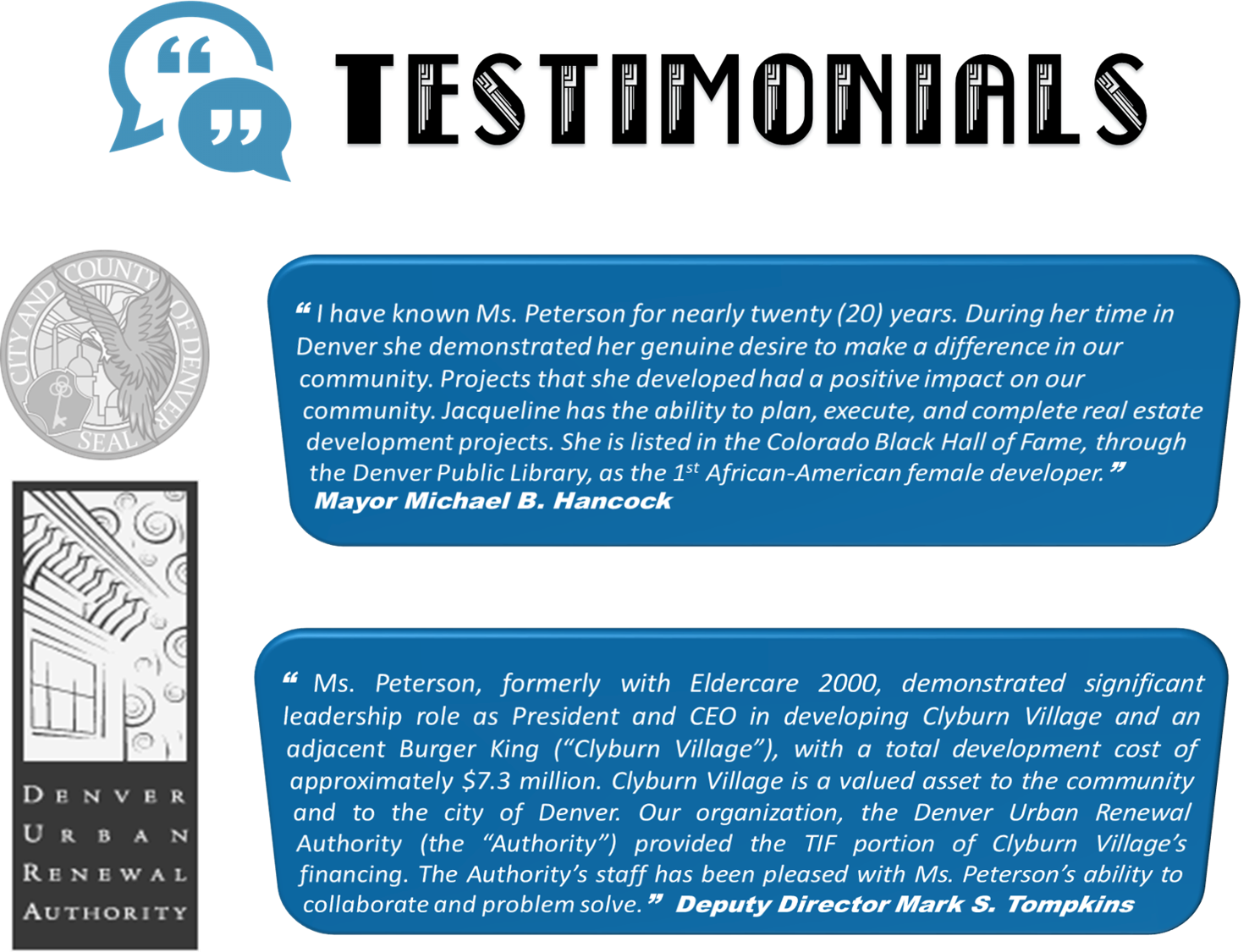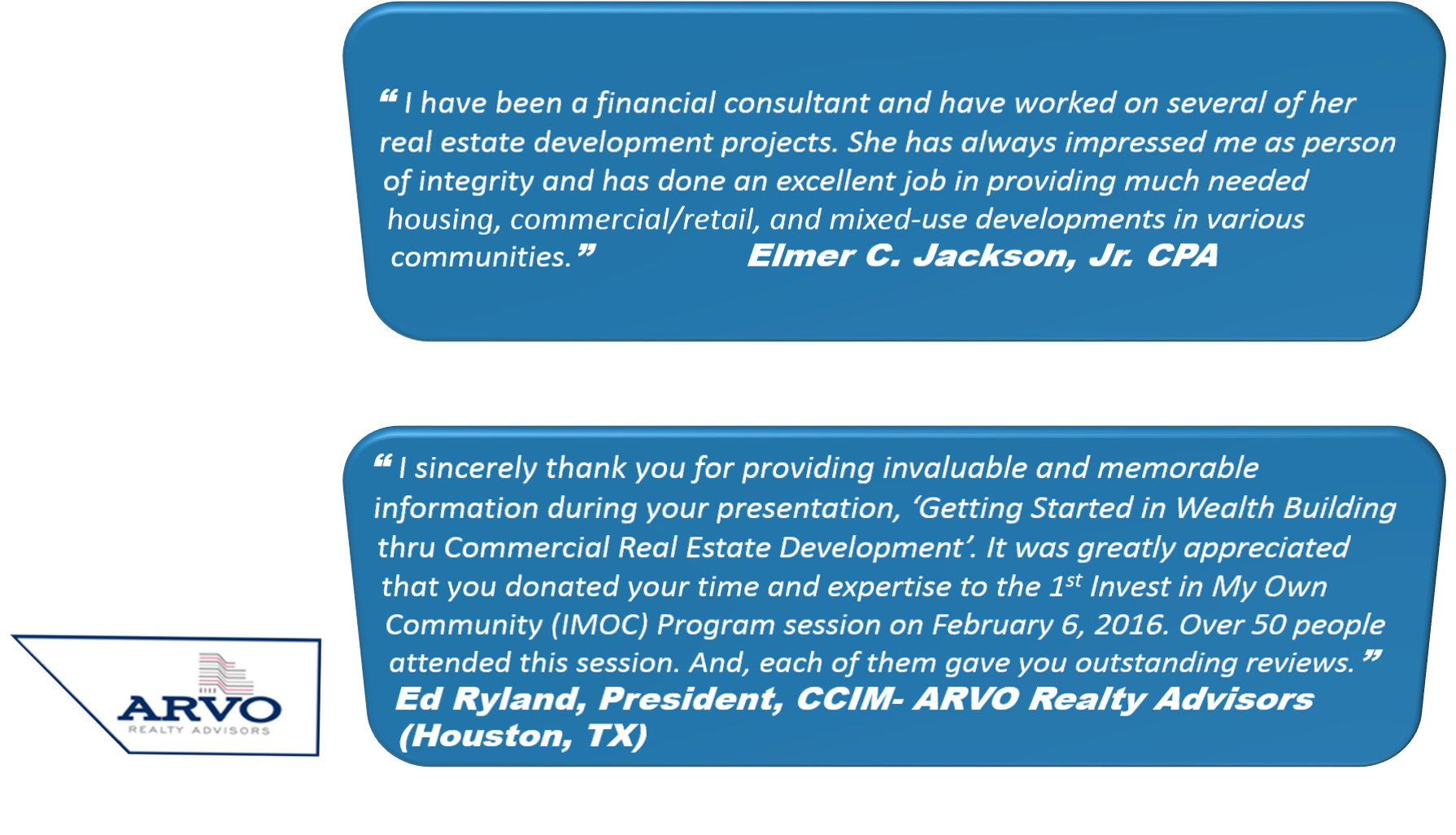 Frequently Asked Questions
When does the MENTORING start and finish?
The Mentoring starts after you follow the instructions provided, below, in order to set up the Monthly Online Face-to-Face Meetings. And, it is for a 12-month period. . It is completely personalized to YOUR needs - you decide when you want to start. WOW... how does monthly meetings sound to you?
How does the 1-on-1 Mentoring work?
After enrolling and paying your 1-time Payment or Monthly Payment, please email me at
[email protected]
to set-up regularly scheduled 1-on-1 Online Meetings. Provide me with two (2) proposed days and times (choose from the days and times shown below). Once confirmed by me, a GoToMeeting personalized link will be emailed to you. This personalized link will be used by you every month that we meet. You do NOT need to have a GoToMeeting account. Just have a webcam so that we can see each other! Also, you will be able to receive and share information during our Online Meeting. You can choose to either meet: 2 hours per month on the same day/time or 2 days per month for 1 hour each (same day/time: For Example- 2nd and 4th Tuesday from 6pm-7pm every month). And, if inclined, you can email me directly as well.
What are the available Days and Times for the 1-on-1 Mentoring Meetings?
Tues - Sat (10 am - 2pm) / Tues - Fri (6 pm - 9pm) EVENINGS .............................................................................................................................................................. Times above are CST (Central Standard Time)
How Many Enrollment Openings are Available?
Just 25 Openings. Why? So, that you can receive the VERY BEST 1-on-1 Personalized Attention.
What is the Refundable or Non-Refundable Policy?
When you enroll in this Course, you are agreeing that NO REFUND will be given under any circumstances. BUT WAIT... you can choose the Monthly Payment Plan Option and if you decide that you do not want to or cannot continue the next or following month, send me an email 10 days before that payment is due or deducted. And, your credit card or debit card will NOT be charged. For example: Due Date- June 15, Deadline to Discontinue Course, via email is by June 5. You MUST provide a 10-day Discontinuance Notice via EMAIL:
[email protected]
Need to ask more questions?
Class Curriculum
Strengths Assessment and Mentoring Questionnaire
Available in days
days after you enroll
Leadership and 6 Characteristics of a Successful Developer
Available in days
days after you enroll