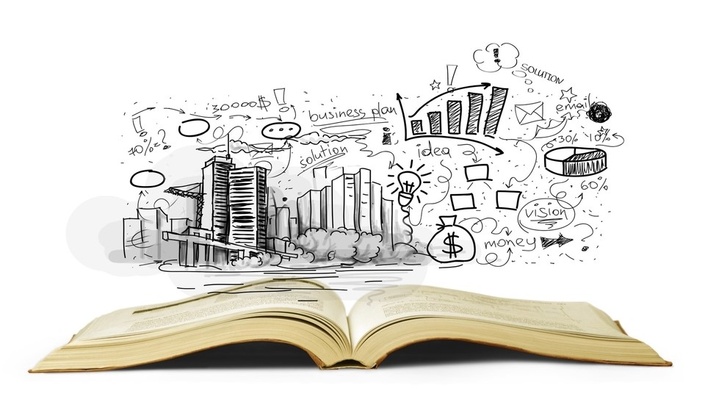 Learn How to Become a Successful Developer with 1-on-1 Mentoring
12 Lessons, 55 Topics, 52 Online Meetings
Watch Promo
Enroll in Course

A 12-Month Structured Course designed specifically for serious-minded individuals that want:

(1) To learn the Step-by-Step Process of Commercial Real Estate Development *
(2) To create wealth, jobs, and improve the quality of life for varied communities
(3) To take it up a notch and shorten your learning curve to becoming a victorious developer
(4) To obtain proven methods and 'insider secrets' from an experienced and successful real estate developer
(* Commercial Real Estate Development includes: Multifamily, Mixed-Use, Retail, Land Development, Office, Hotel, and Warehouse/Light Industrial. You will learn about each of these types.)

BENEFITS: (State-of-the-Art Online Learning Environment)
(1) 12 Structured Learning Lessons with 55 Topics (including 20 "hands-on" Learn by Doing Assignments)
(2) 34 Videos
(3) 52 Personalized Online Mentoring Meetings with Me (your instructor)
(4) Explore potential real estate development projects anywhere in the United States
(5) Current Information along with my Annual Summary of ULI's Emerging Real Estate Trends
(6) EASY ACCESS to Course on any & all devices (you own): Laptops, Desktops, Smart Phones & Tablets
(7) Weekly Tips, Insights, Articles, or Inspirational Quotes emailed to you
(8) Receive a Certificate of Completion
(9) Lifetime Access to this Course (including any Updates to this Course)
(10) According to a recent report by the U.S. Department of Education, "learning outcomes for students who engaged in online learning exceeded those of students receiving face-to-face instruction."
STUDENT TRANSFORMATION:
(1) After completing this 12-Month Structured Course, you will gain real estate development knowledge, astuteness, and new skills.
(2) This Course will help YOU become a strategic leader who thinks creatively and understand the political, economic, social, and technological impacts of the development process.
(3) Your determination and confidence will allow you to do deals for yourself or on behalf of a Landowner.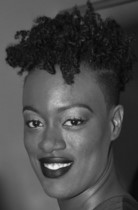 I am thrilled to say that I completed this 12-month course and it was well worth it! I have acquired significant knowledge and have a newfound appreciation for the commercial real estate development process. Jackie has really created a remarkably well-thought out and organized curriculum. The Learn by Doing Exercises are essential to the learning process and I can't say enough about being able to have Jackie as a mentor to learn directly from week after week. Each topic builds upon the previous one and as a student I was able to connect the dots and apply learnings to existing projects and future projects that I have planned. I HIGHLY recommend anyone who is considering becoming a developer to sign up for this course!
----NARELLE MYKE, New Age Investment Properties (South Orange, NJ)

Completion Date: 6/27/2018
1st Project Completed after Course (364-366 Avon; Newark, NJ- 2-family unit) with significant consulting services from Jackie Peterson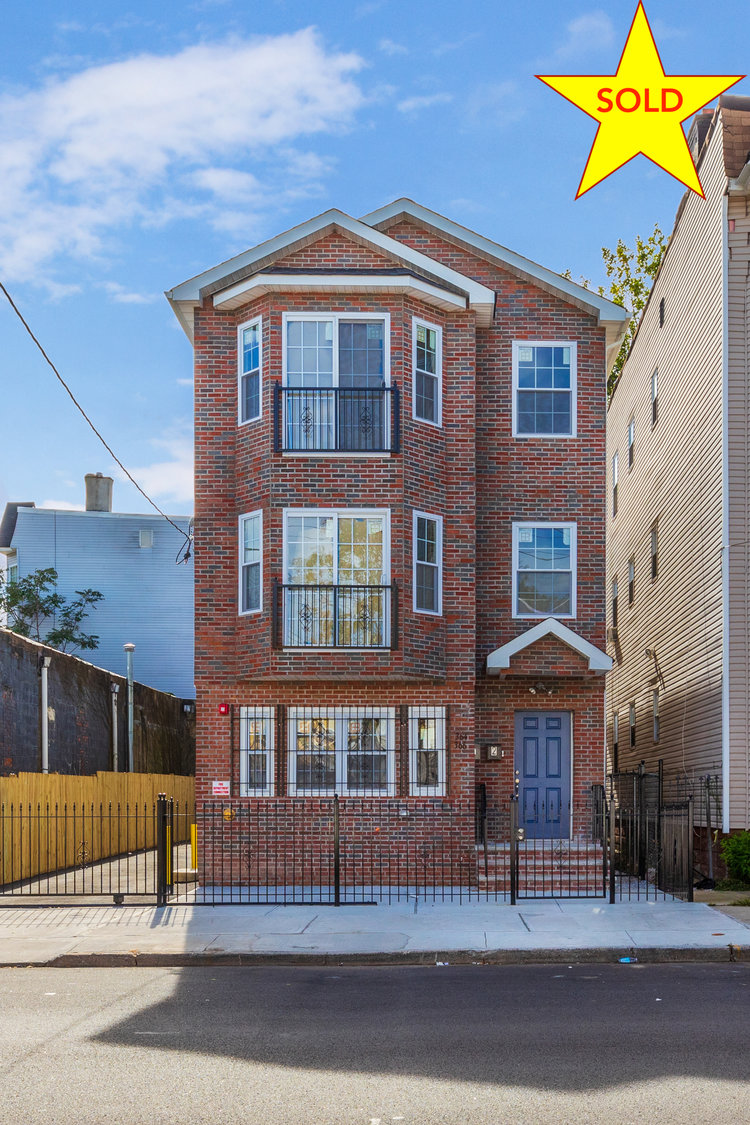 Upcoming Project (rendering) at 13 Marion Ave; Newark, NJ- 2 family unit, with significant consulting services from Jackie Peterson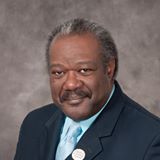 "I recommend this course to any person who might be interested in becoming a Commercial Real Estate Developer. You have the opportunity to learn at your own pace with the "A-La-Carte" choices. Even if a person chooses not to enroll in the full course, the one-on-one mentoring should be a part of the curriculum. There is not comparison to the benefits that come from this personal training. Even if a person is highly intelligent and a fast learner, including Ms. Peterson's wealth of knowledge and experience in this industry is invaluable. Ms. Peterson directs your attention to information that you may otherwise overlook while researching the most up-to-date industry trends and changes. She will also help you focus on specific details that you may not be trained to pick out in your research. Anyone may have the potential to become a commercial real estate developer; but this course will improve your ability to be a SUCCESSFUL Commercial Real Estate Developer."

----ALBERT LOUIS PINKNEY (Houston, TX)
Your Instructor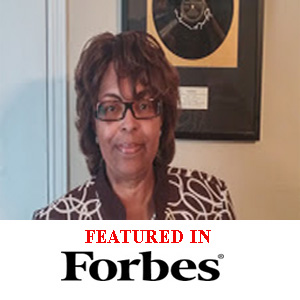 President / CEO - J&T Peterson Development, LLC [email protected] / Jacqueline's LinkedIn Profile
J&T Peterson Development, LLC is the sole creator/ owner and author of all courses within Online Real Estate Development Academy. Please feel free to call: (800) 832-0918.
Successful track record of over 10 years in raising, developing, and managing $30mm dollars for real estate development projects within distressed and master planned communities. Completed development cycles from site selection/acquisition and due diligence, concepts and planning, through financing and construction with project management. Change Order History: Maximum 1.5% to the Lowest of 0%.
TYPES of DEVELOPMENTS: Mixed-Use, Multifamily, Retail, Commercial/Office, Land Development
Featured in FORBES MAGAZINE, as 1 of 10 Formidable Negotiators in the United States.
Recently authored a FREE eBook- "Creating Wealth thru Commercial Real Estate Development". Commercial Real Estate Development is one of the best ways to create wealth. It can produce the type of lifestyle you desire and initiate generational wealth. Please click on or copy and paste in your browser the following link to receive your FREE eBook. "Creating Wealth thru Commercial Real Estate Development"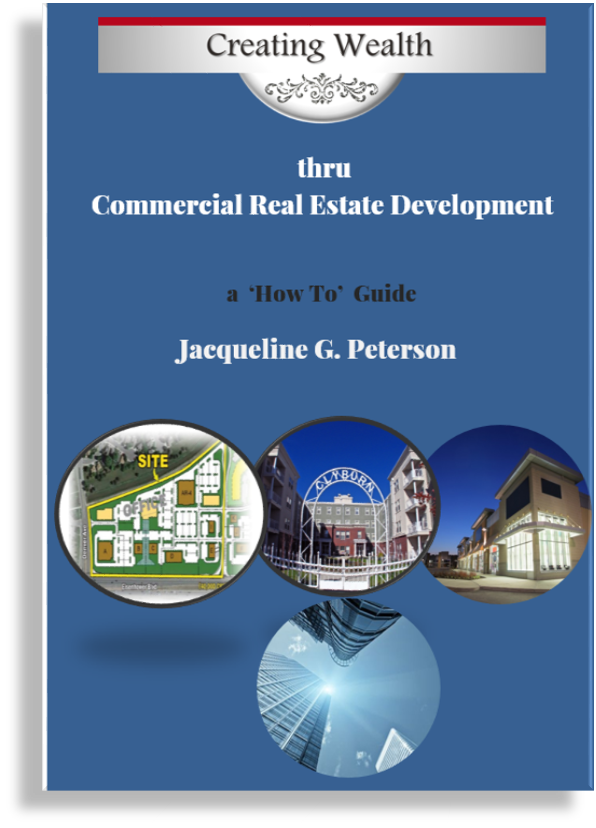 Below are some of my Projects' Pictures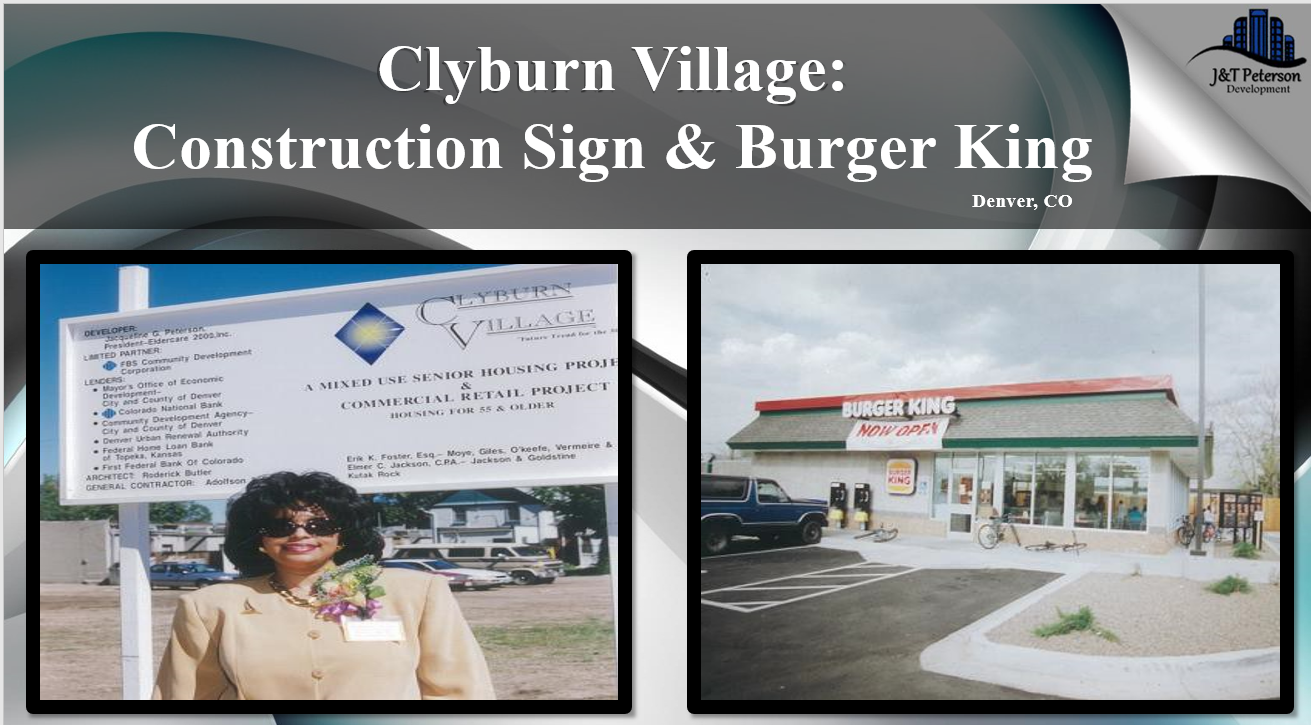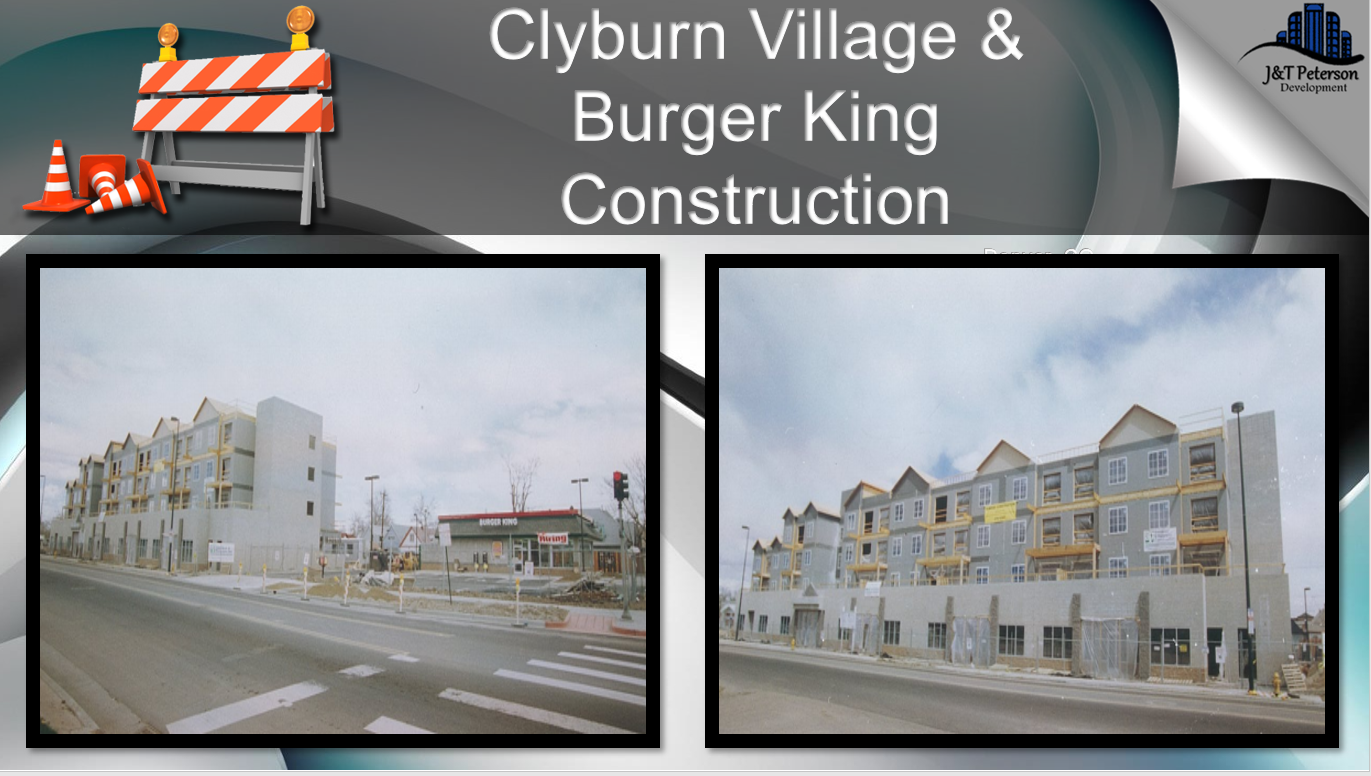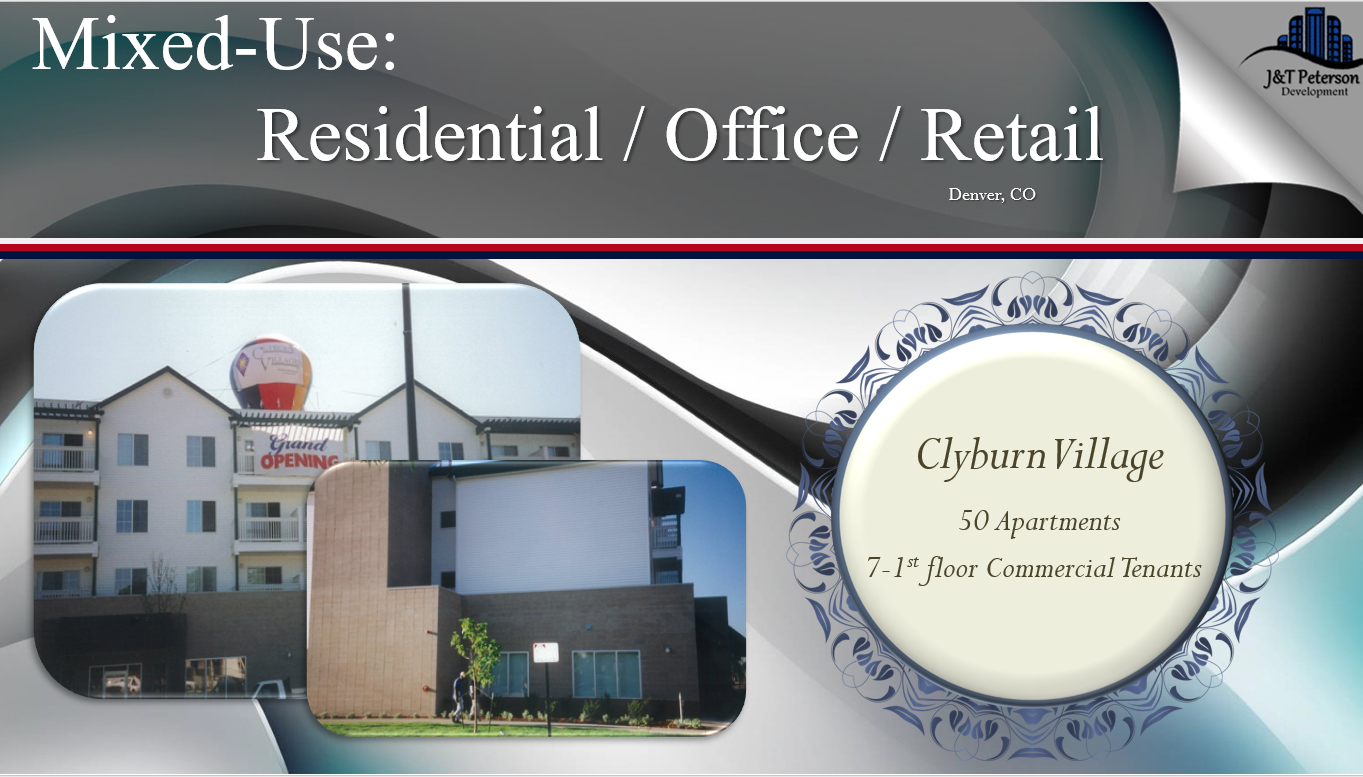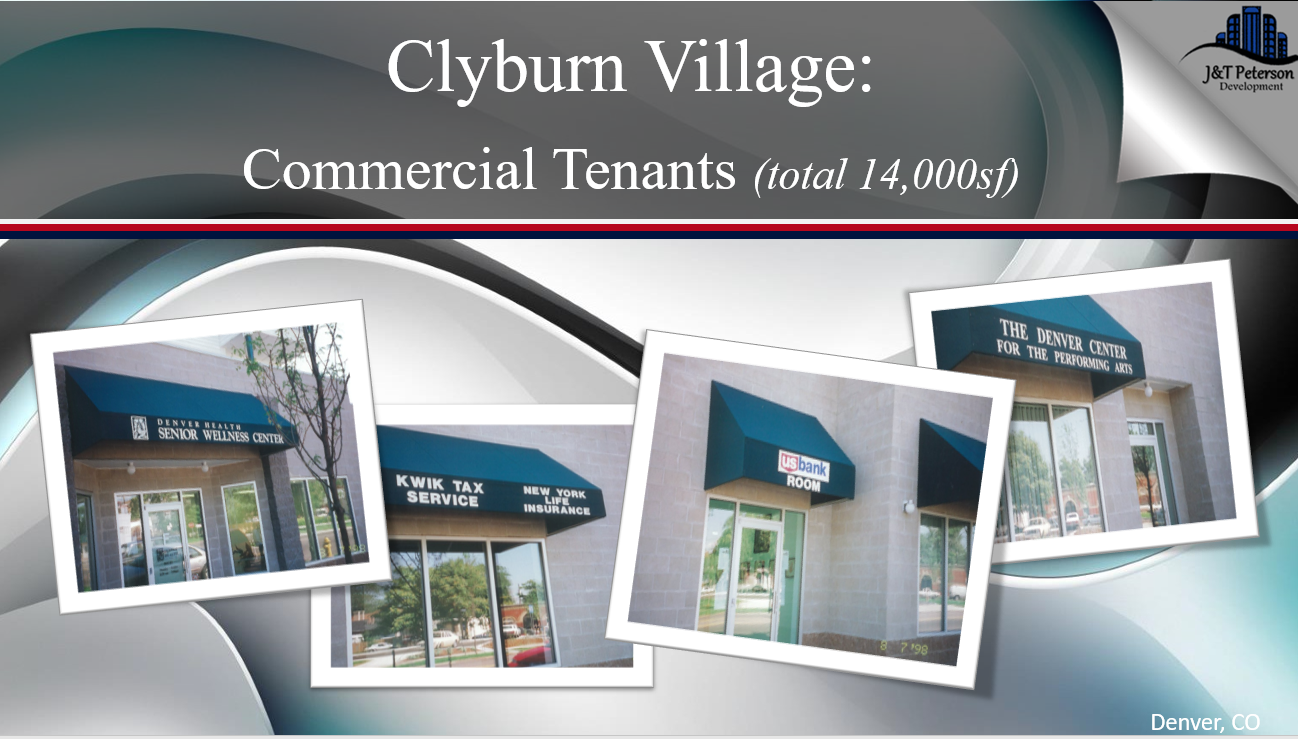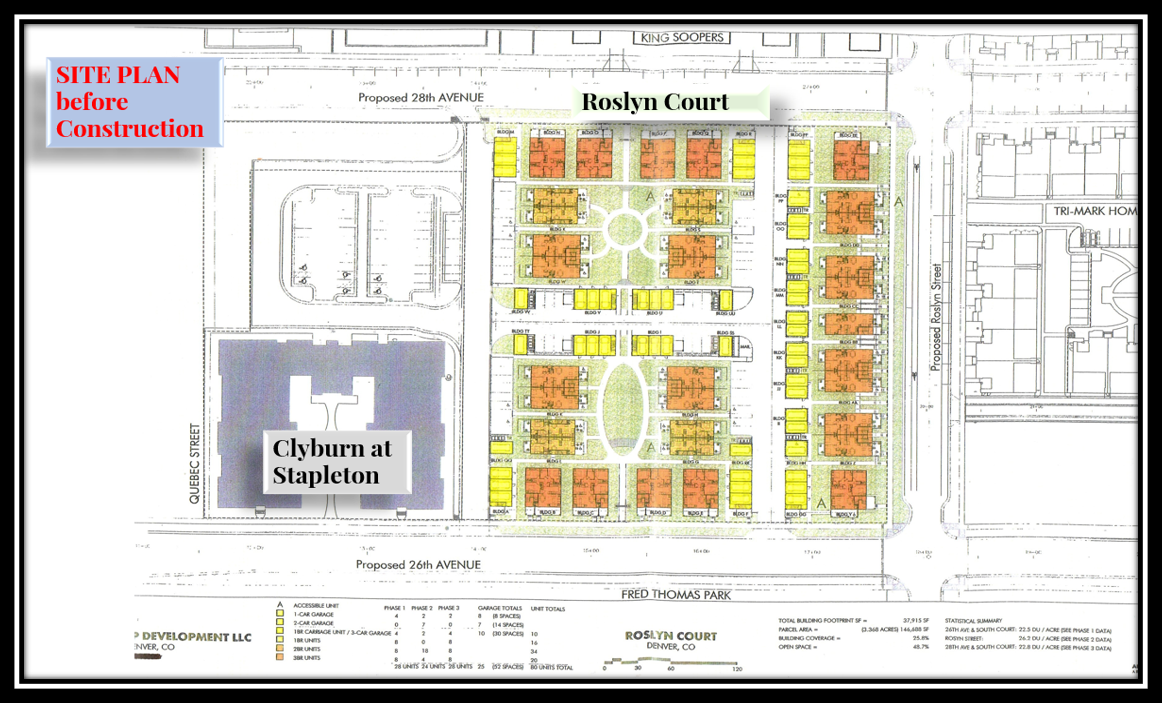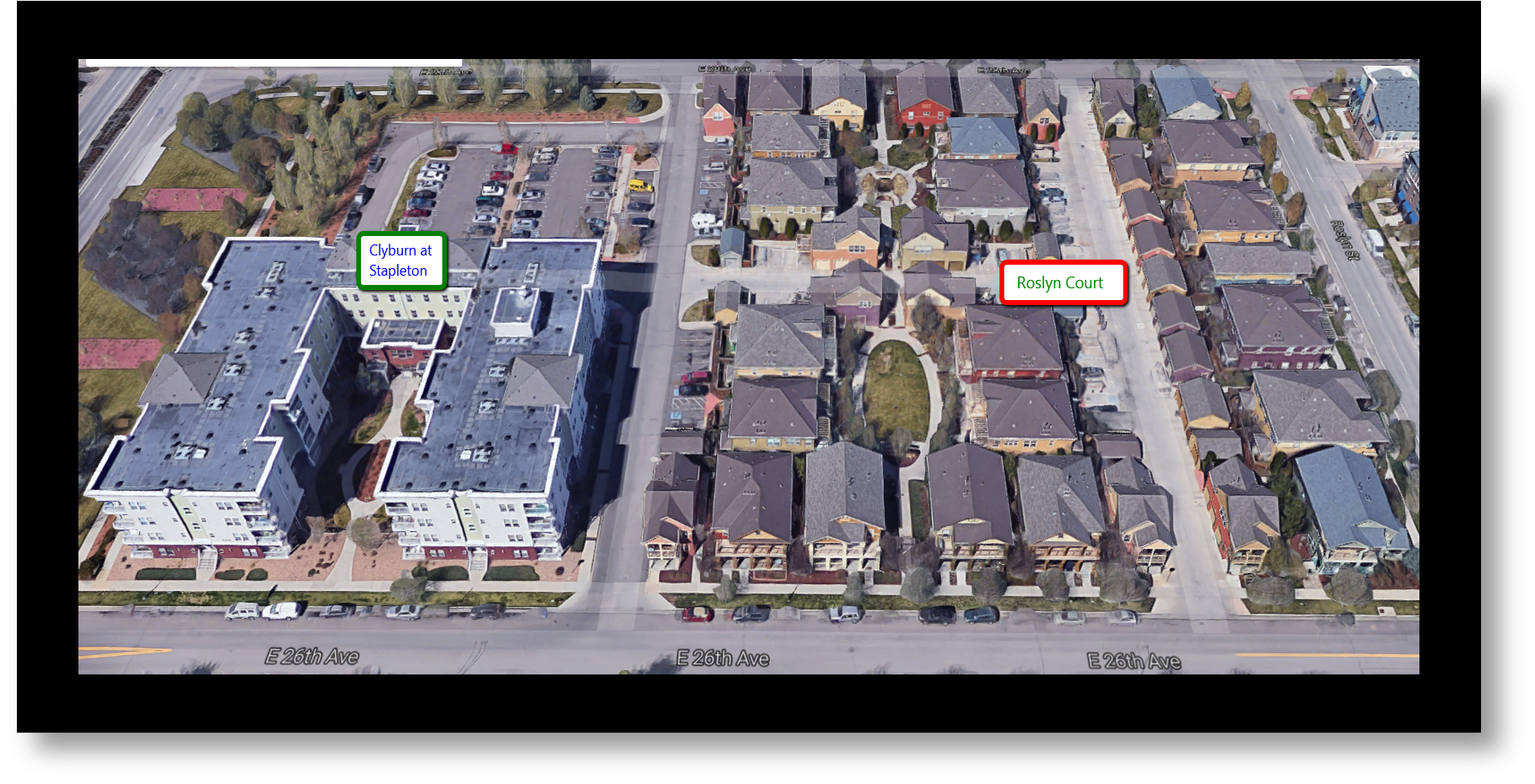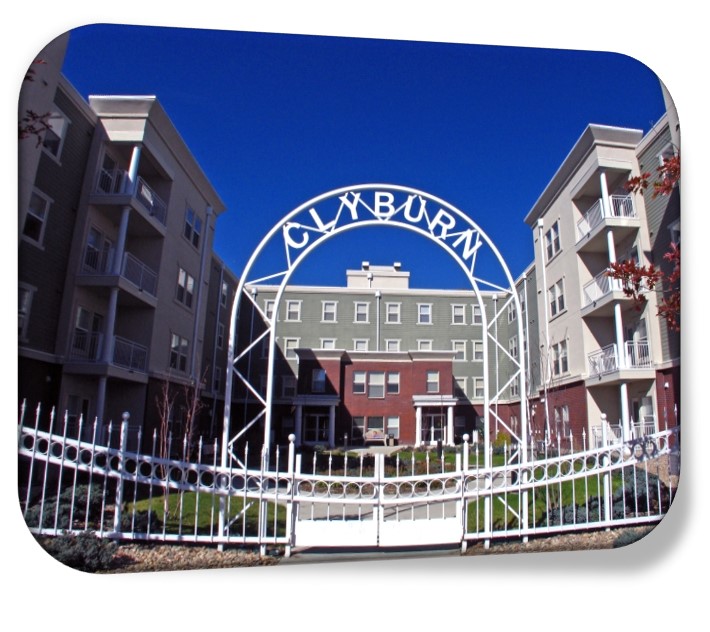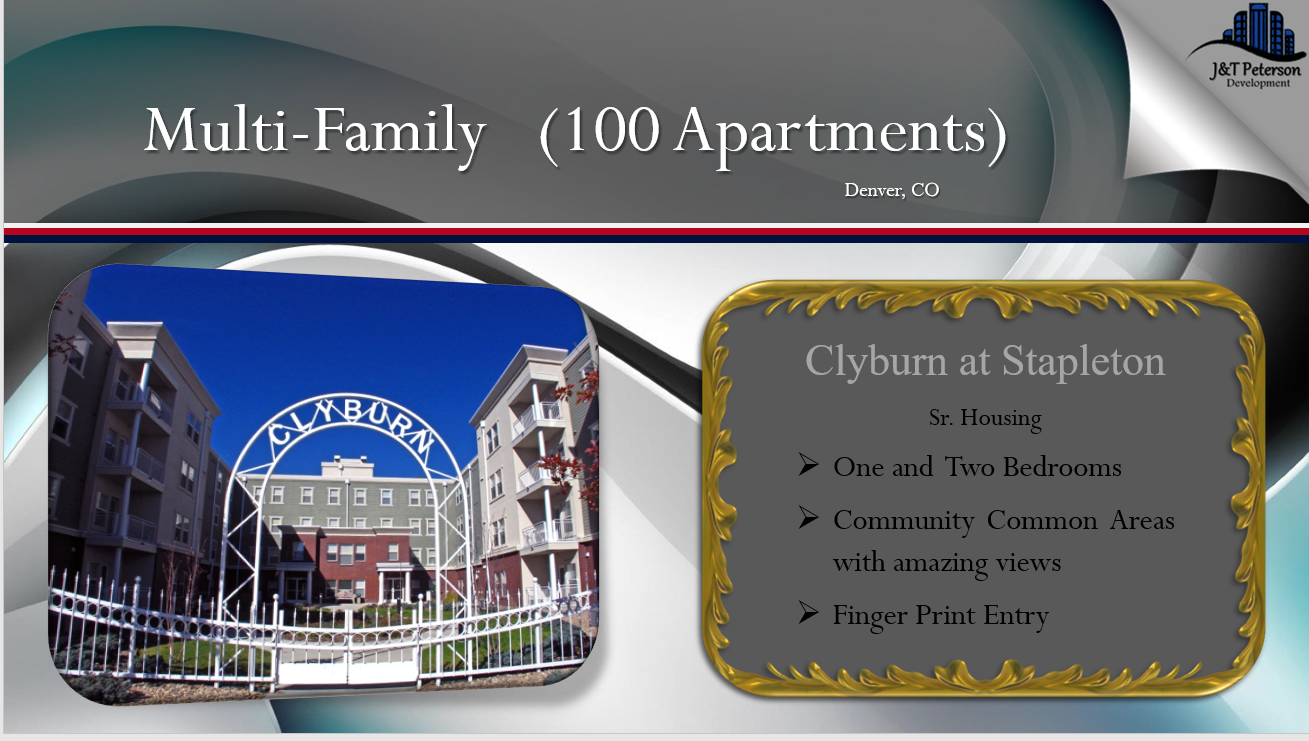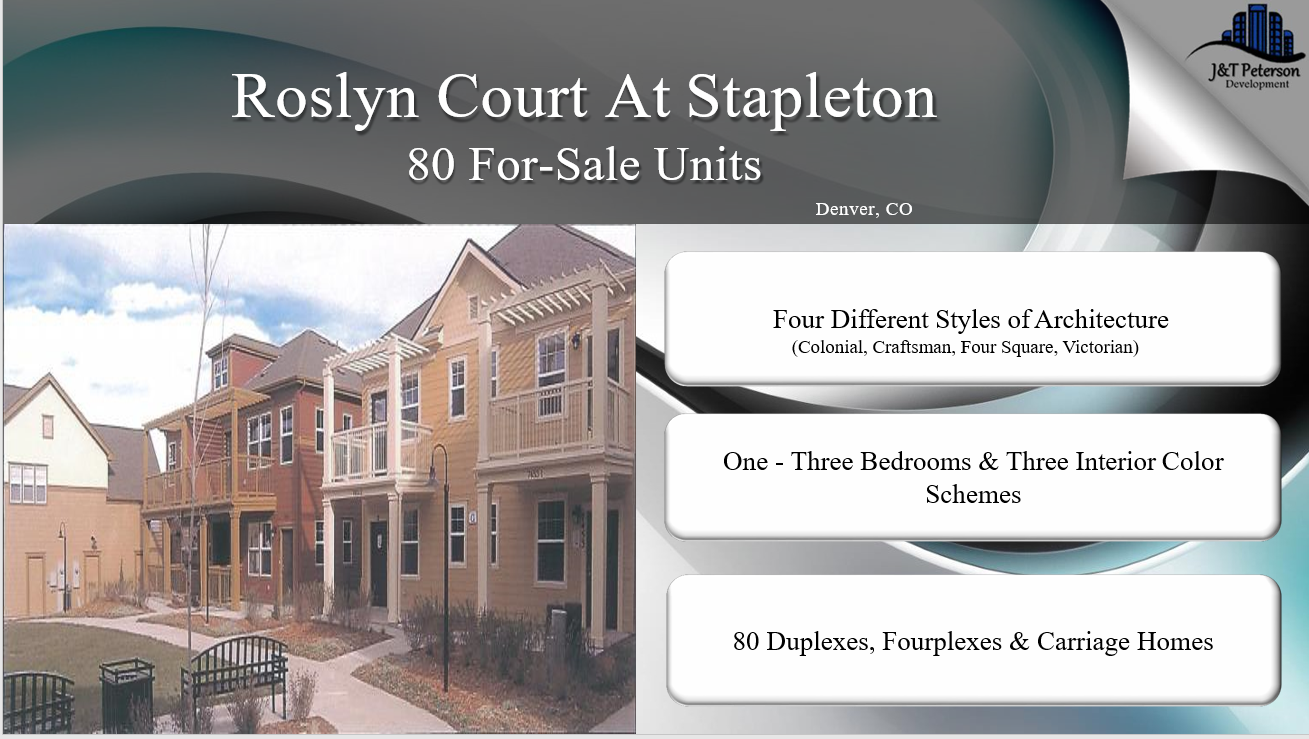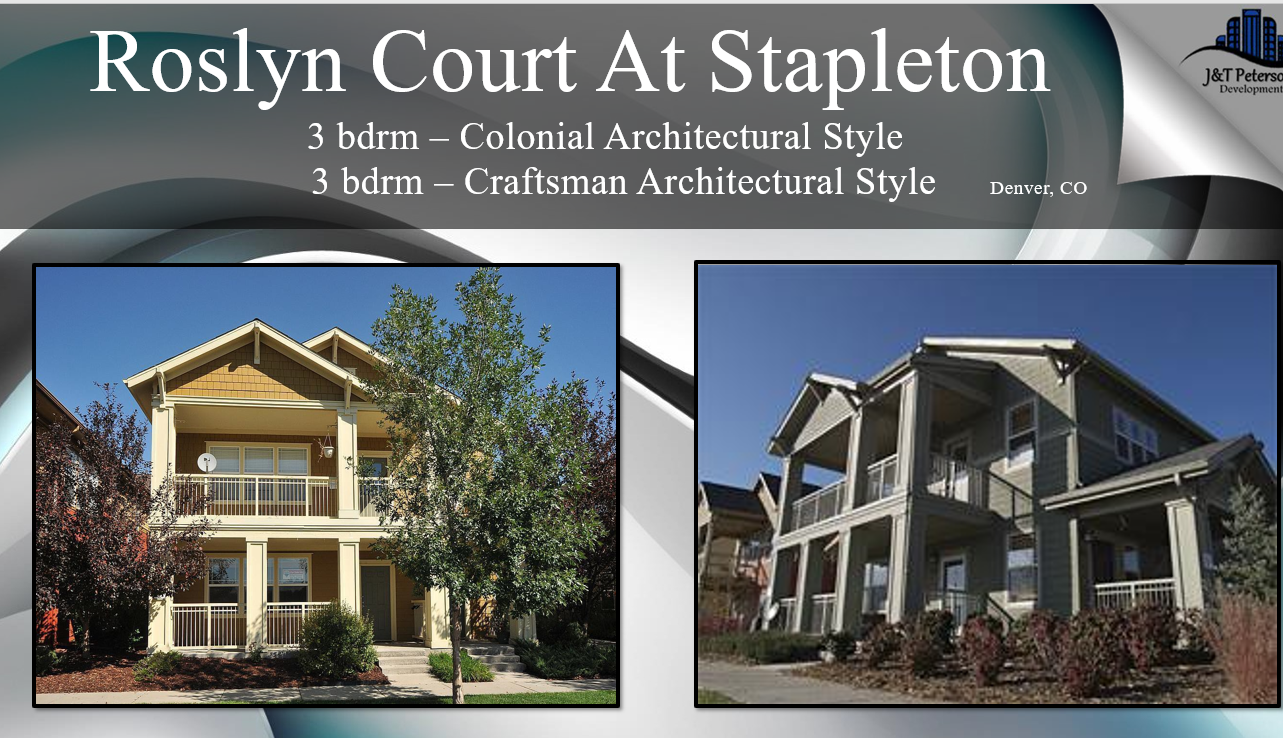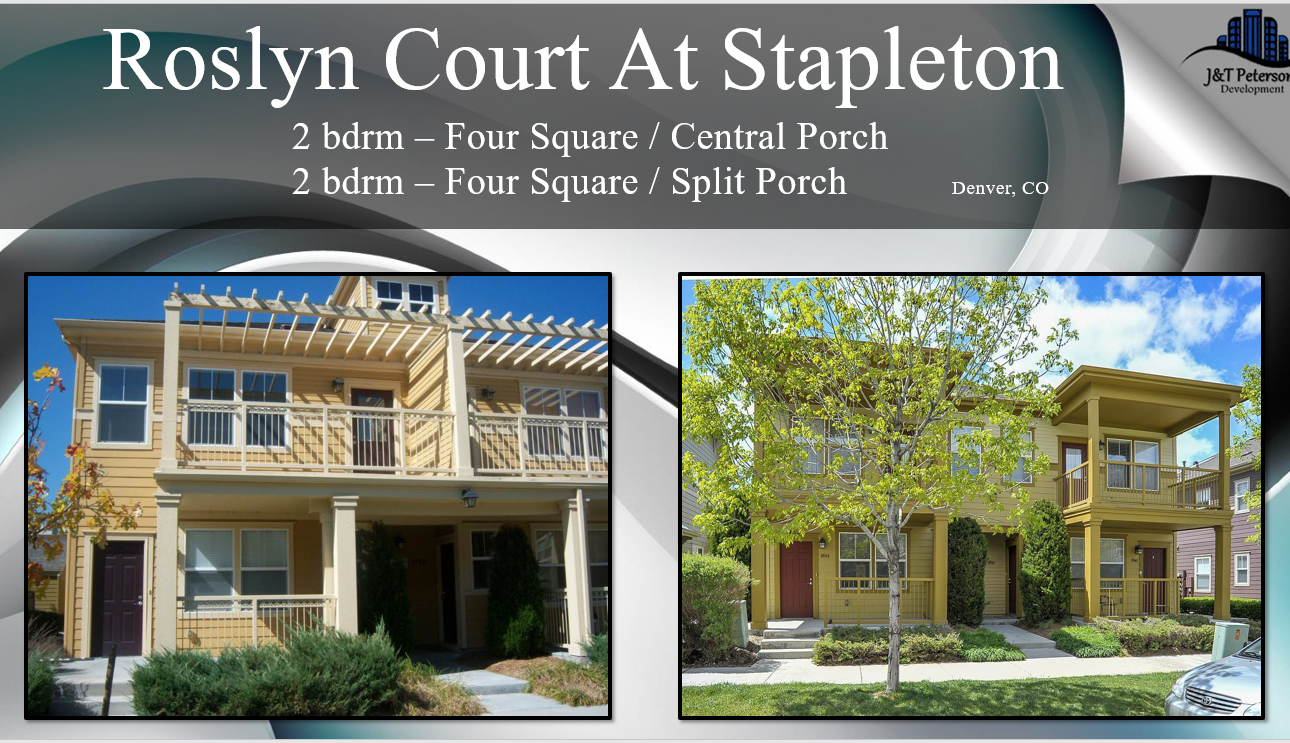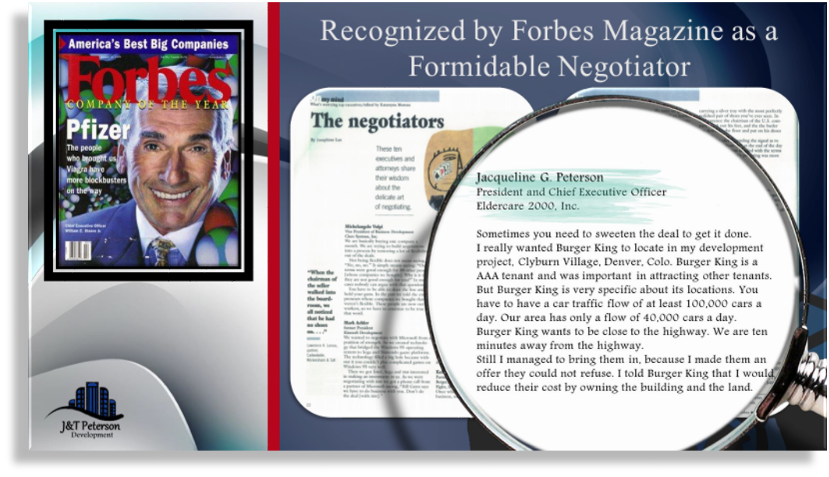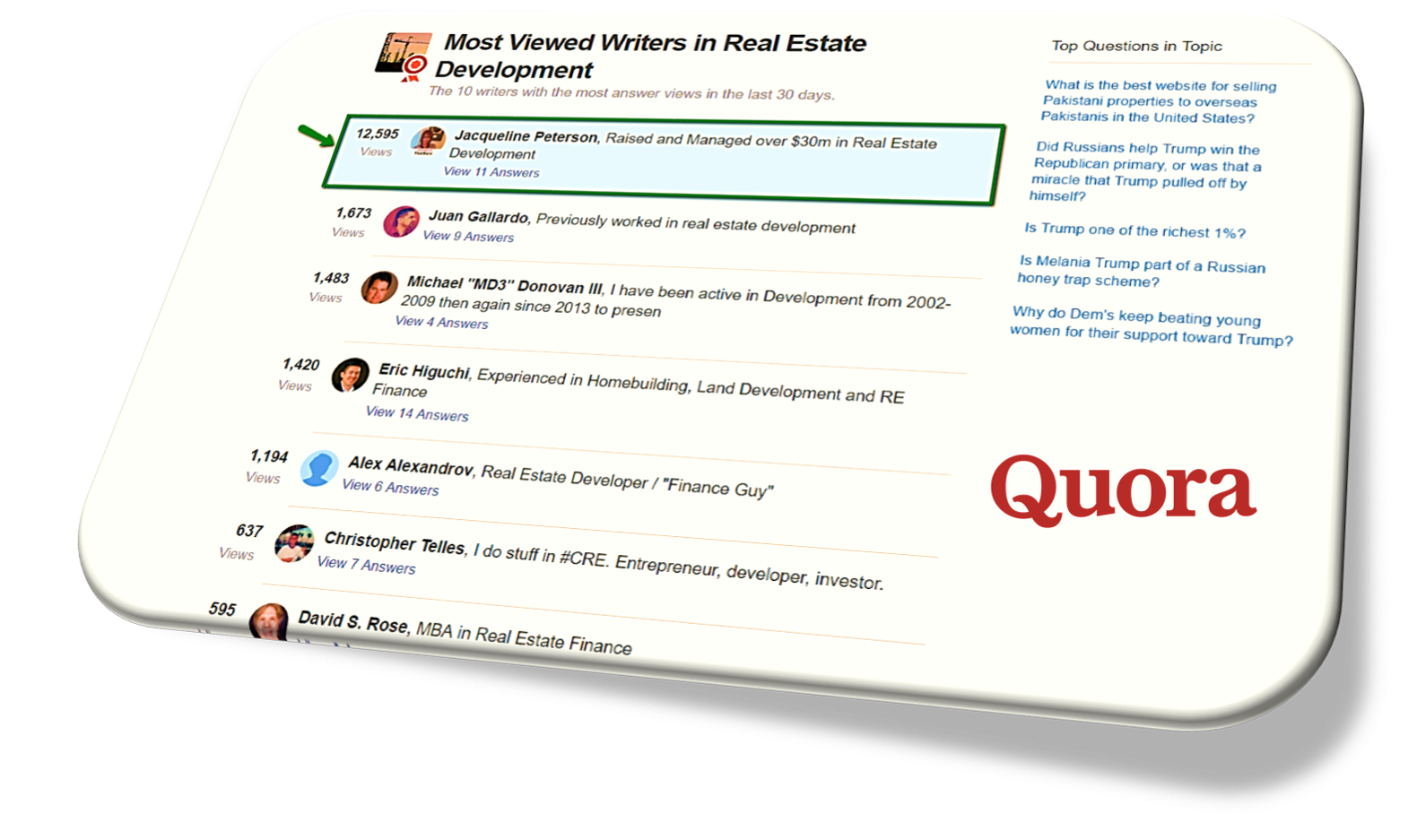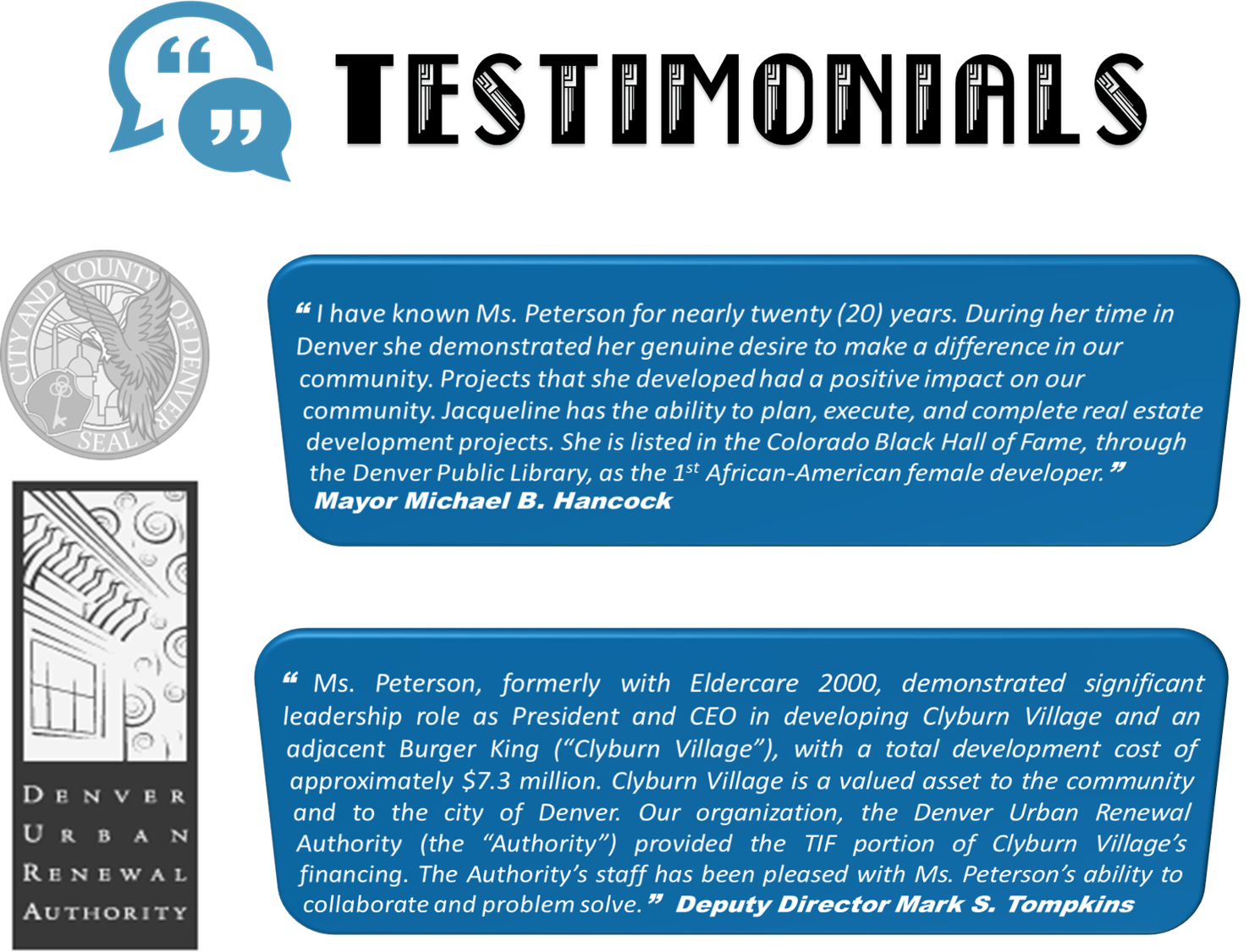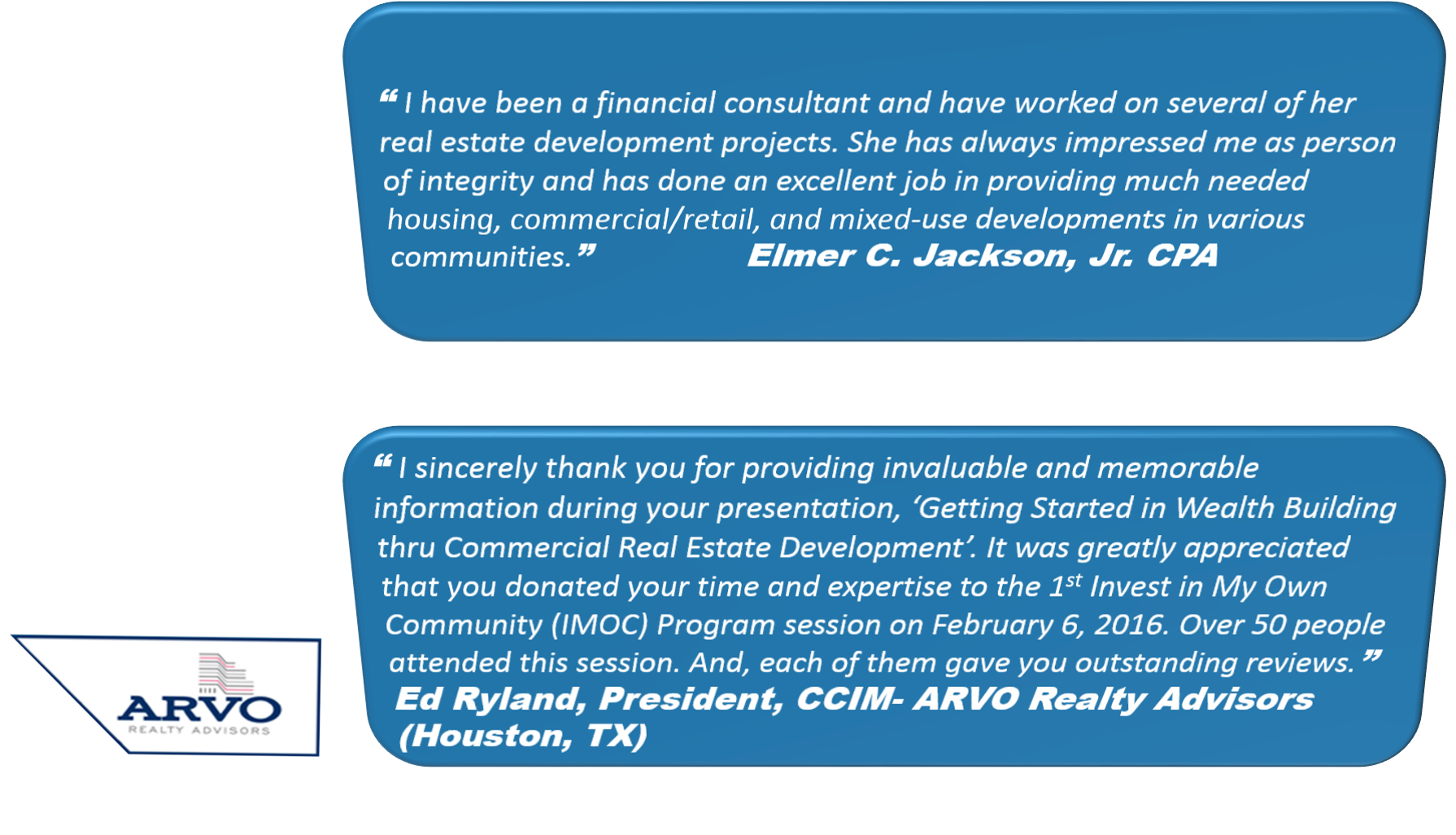 Frequently Asked Questions
When does the course start and finish?
The 12-month Structured Course starts as soon as you enroll and ends after you have completed all 12 Lessons, 55 Topics, along with Assignments and Graded Quizzes!
Are ALL 12 Lessons released to you when you enroll?
SORRY, but NO. With the exception of the 1st Lesson, each Lesson will be available 30 days from the prior lesson. You MUST complete each Lesson along with Assignments or Quizzes before you can proceed to the ensuing or next lesson. For INSTANCE, Lesson 1 will be available the same day that you enroll but Lesson 2 will be available 30 days after Lesson 1, Lesson 3 available 30 days after Lesson 2, and so forth. WHY? Because real estate development is a process and it has sequential steps. And, if you miss or skip important information (topics, quizzes or assignments), it will be truly DIFFICULT to learn and understand the tactics and strategies needed in order for you to become a successful real estate developer!
How long do I have access to the course?
How does lifetime access sound? After enrolling, you have unlimited access to this course for as long as you like - across any and all devices you own (laptops, desktops, smart phones, and tablets).
When does the 1-on-1 Mentoring start?
After enrolling and paying your 1-time Payment or Monthly Payment, please email me at
[email protected]
to set-up regularly scheduled 1-on-1 Online Meetings. Provide me with two (2) proposed days and times (choose from the days and times shown below). Once confirmed by me, a ZOOM (audio/video conferencing) personalized link will be emailed to you. This personalized link will be used by you every week that we meet.You do NOT need to have a ZOOM account. Just have a webcam, so that we can see each other! You will be able to receive and share information during your Online Meeting with me. Each Weekly Online Meeting is for 1 hour. And, if inclined, you can email me directly as well. ................................................................................................................................................. DON'T FORGET - - YOU WILL HAVE 52 ONLINE WEEKLY MEETINGS!
What are the available Days and Times for the 1-on-1 Mentoring Meetings?
Tues - Sat (10 am - 2pm) / Tues - Fri (6pm - 9pm) EVENINGS ........................................................................................................................................................ Times above are in CST (Central Standard Time)
How many Enrollment Openings are Available?
Just 25 Openings. Why? So, that you can receive the VERY BEST 1-on-1 Personalized Attention. Also, please do not sign up if you cannot commit to this Course, the same way you'd commit to a highly competitive college program. There are so few spots - if you take this Course, please keep it and use it.
What is the Refundable or Non-Refundable Policy?
When you enroll in this Course, you are agreeing that NO REFUND will be given under any circumstances. BUT WAIT... you can choose the Monthly Payment Plan Option and if you decide that you do not want to or cannot continue the next or following month send me an email 10 days before that payment is due or deducted. And, your credit card or debit card will NOT be charged. For example: Due Date- June 15, Deadline to Discontinue Course, via email is by June 5. You MUST provide a 10-day Discontinuance Notice via EMAIL:
[email protected]
.
Need to ask more questions?
Course Curriculum
PLEASE make sure to click "COMPLETE and CONTINUE"
Available in days
days after you enroll
Outline of 12-month Course
Available in days
days after you enroll
CERTIFICATE of COMPLETION
Available in days
days after you enroll